Identify team strengths or dysfunctions with these assessments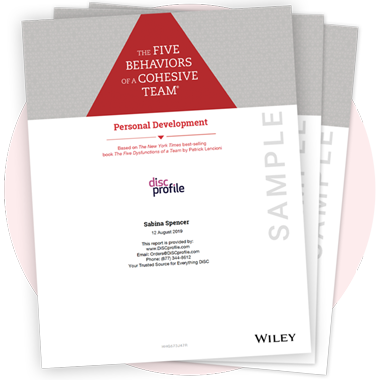 The Five Behaviors® Team Development
The Five Behaviors® Personal Development
Five Behaviors-related downloadable content such as virtual facilitation guides, a white paper, slide decks, and posters
Share and react to these readings
from this blog
The 5 behaviors of a cohesive virtual team
Tips we gathered from Patrick Lencioni
Set ground rules for better team performance
Don't assume everyone knows or agrees to the same rules.
Building trust on virtual or remote teams
Trust doesn't always happen naturally.
from other experts
How to Engage Remote Teams, with Tsedal Neeley, Coaching for Leaders podcast
Three key principles that leaders can lean in on in order to engage remote teams better, plus practical examples on how almost any leader can put these principles into action.
7 Strategies to Build a More Resilient Team, Harvard Business Review
Resilience requires a level of self-awareness and empathy that may not come naturally to all team members.
Too Much Cross Talk. Too Little Creativity. How to Fix the Worst Parts of a Virtual Meeting. Kellogg Insight
Six tools from an unlikely place—improv comedy—to use on your next Zoom call.
Virtual Team Charter Guidelines, Government of Canada
A team charter is a "roadmap to success" that team members create together.
3 Tenets of a Strong Remote Culture, Harvard Business Review
First, build strong learning and social cultures.
How to Prepare Your Virtual Teams for the Long Haul, Harvard Business Review
Unclear missions, inconsistent social norms, low common identity, unclear roles, and unstable membership — are the recipe for team disasters.
New Leadership Challenges for the Virtual World of Work, MIT Sloan Management Review