Energizing leaders: DiSC i style leadership
Energizing leaders pump up the energy around them. They tend to be spontaneous, outgoing and encouraging. Ideas flow from their lips. They try to create innovative environments around them.
Nothing great was ever achieved without enthusiasm."
— Ralph Waldo Emerson
The energizing dimension of leadership
As one of eight dimensions of leadership, this one tends to be the most collaborative and enthusiastic. It's a great dimension to draw upon when launching an new initiative, before a big game or when initiating a change in the focus of your team.
If you act most comfortably in the energizing dimension, you probably love taking a new idea and running with it. You're naturally excited by new ideas and new people.
The energizing dimension has its potential failings, too. New ideas can distract you from the routine details and obstacles that need to be taken care of. You can appear to be scattered and inconsistent. Your excitement and optimism can lead you to neglect or discount potential problems. Who wants to get bogged down by analysis?
What we can learn from energizing leaders
Build enthusiasm for the group's goals
Some people need to see their leader's energy going towards a goal before they'll invest their own. A leader's mood can influence the entire team. Everyone loves to feel needed and part of something greater than themselves. Energizing leadership invites others in, welcomes them to the party, and celebrates everyone's successes. Making time for team-building events, socializing and off-site meetings can engage your team and align their efforts towards a shared vision.
"Leaders ignite the flame of passion in others by expressing enthusiasm for the compelling vision of their group."
— Jim Kouzes and Barry Posner, The Leadership Challenge
Recommended reading:
Yes, who you know does matter
People-oriented individuals, like the energizing leader, make connections with ease. They enjoy being connectors — introducing like-minded people. Others have to do it more deliberately. Building networks can feel manipulative, insincere or way too time consuming. But acting in isolation is lonely and ineffective. By including others within your organization and outside of it into your world, you have a ready source of feedback, new ideas, challenges to your way of thinking, and alerts to new opportunities.
"… we've found that networking—creating a fabric of personal contacts who will provide support, feedback, insight, resources, and information—is simultaneously one of the most self-evident and one of the most dreaded developmental challenges that aspiring leaders must address."
— Herminia Ibarra and Mark Lee Hunter, Harvard Business Review
Recommended reading:
Learn to lead the rally
It's up to the leader to create a a sense of community and of being part of something important, something that matters. If you show no passion, why should your followers? Deliberate leaders, who are most comfortable making decisions and providing resources, tend to have a harder time of this than others. It's possible to learn how to be more inspirational, outgoing and enthusiastic, even if it drains some of your energy.
"Let people know that you will not let their ideas drop. Leaders need to capture and amplify the enthusiasm of others."
— Jack Zenger and Joe Folkman, The Handbook for Leaders
Recommended reading:
The pitfalls of energizing-only leadership
Energizing leaders can have a hard time slowing down long enough to address details and obstacles. They want to simply trust in their gut instincts and get moving. Often a leader has to dig into big data and analysis. If a leader rushes too quickly, his followers might see him as distracted, disorganized, or flighty. Thinking out loud or sharing all one's ideas can make it hard for followers to know what the leader really wants them to follow up on. The questioning and skeptical members of a team can feel dismissed if little attention is paid to their priorities.
Liking to keep things pleasant, the energizing leader often has a low tolerance for negative emotions or conflict. She can let let her own emotions build until she becomes overwhelmed and lashes out. Or she avoids conflict that could have led to better decisions or to innovative processes. Working out difficult personnel issues or making unpopular decisions can be very taxing for this type of leader.
One more difficulty comes from a positive drive for movement and momentum. Dealing with process inefficiencies, interpersonal conflicts, and communication gaps can be difficult. At first these types of issues seem like speed bumps, but they can end up being brick walls if not addressed.
Discover your own preferred leadership dimension
The 8 Dimensions of Leadership Map is a quick assessment to give you an idea of your own style.
Different business situations often require different styles of leadership. Mentors, coaches and self-reflection can help any type of leader stretch into each of the leadership behaviors needed by every effective leader.
Download the slide deck below for an overview of lessons you can learn from each of the eight dimensions of leadership. These lessons and insights are drawn from The 8 Dimensions of Leaders: DiSC® Strategies for Becoming a Better Leader.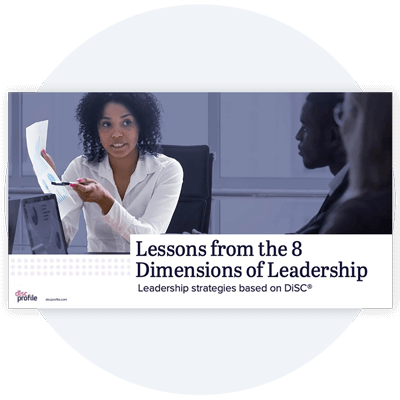 Download slides for Lessons from Each of the 8 Dimensions of Leadership
By Kristeen Bullwinkle
Originally published on TalentGear.com.